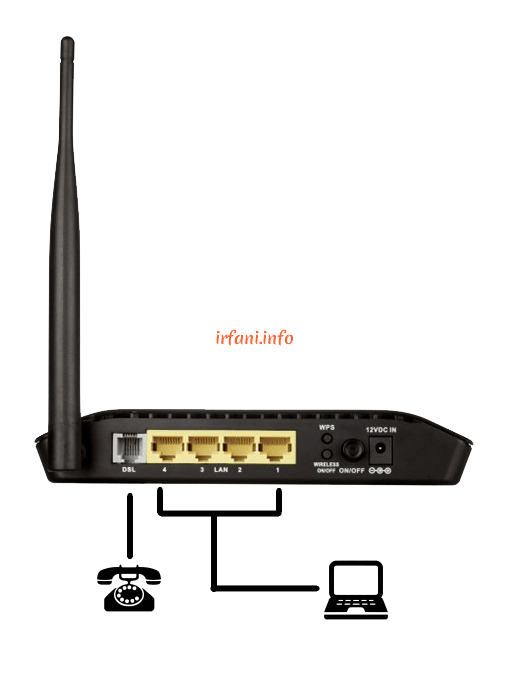 For you ADSL Telkom Speedy subscribers, you may already know that every internet installation has received a modem from Telkom which consists of various brands. In this case I provide a PPPoE guide if you have or get a D-Link ADSL DSL-2730E modem, here are the specifications on the website :
The following are the required devices and the PPPoE guide for the modem :
Laptop (DHCP IP)
LAN cable
Telephone cable
Connect the telephone cable to the DSL port and connect the LAN cable on the laptop and at the other end of the cable connect to the LAN port on the modem (topology as shown above). Open the browser then type the default IP of the modem, which is 192.168.1.1 and type admin in the User Name and Password fields, then click Log In.
Click Setup Wizard.
In the first step it is recommended to change the login password first, click Next.
The second step is to adjust the time for the modem, click Next.
The third step is to adjust the configuration of the ISP such as VPI, VCI and PPPoE username and password, if you don't know it, please contact the relevant ISP, click Next.
The fourth step is to configure the wireless name and password, click Next.
The final step is the conclusion from steps 1 to 4, click Apply.
The following is the status if you have successfully logged in to dial the PPPoE. Currently the laptop has successfully connected to the internet either via LAN cable or wireless.
D-link provides free DDNS for router users for remote remotely, select Advanced – Dynamic DNS and select dlinkddns.com (Free), if you don't have an account, you can register here.
Or if you have another DDNS account it can be adjusted according to the existing options.
To view devices connected to wireless, select Setup – Wireless Setup – Show Active Clients.
To see all connected devices either via LAN or wireless, select Setup – Local Network – Show Client.
If you have CCTV, applications or other devices that you want to access from outside your home, we can set up Port Forwarding. Click Advanced – NAT, adjust the application name, protocol, port and local IP used, then click Apply Changes.
Good luck and thank you.
Update : DDNS D-Link cannot be used since July 2, 2020.